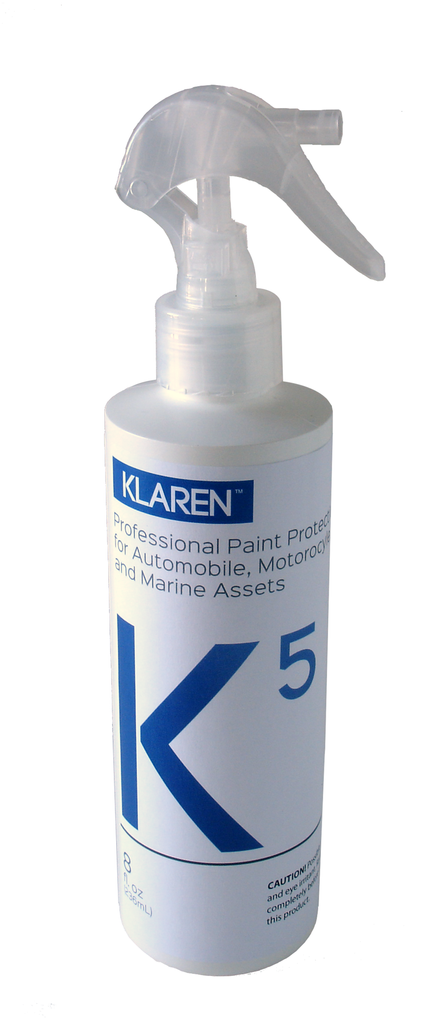 Klaren Clean's K5 - Superior Spray Wax and Sealant
K5 is only available through through special order - Please contact us to order yours today.
Compromise is not your style. Klaren knows, and is proud to deliver K5, a spray sealant precisely formulated to meet the demanding standards of professionals and discerning hobbyists. Our versatile spray sealant is perfect for painted surfaces and exterior plastics. Use it alone to lock in the freshly-washed look. Use it as a maintenance agent for the newest, high-end ceramic nano coatings.  K5 uses the same liquid-glass technology, so you get the unparalleled shine, slickness, and wet look of a natural carnauba wax with months of durability.*
Our SiO2 nano ceramic formula is the best choice for a brilliant, smooth finish that provides months of protection with regular use.  Our professional-grade spray sealant protects paint from damage and prevents contaminants from sticking. 
Application couldn't be easier. Wipe on and wipe off with a microfiber towel after washing your car. The coating is hydrophobic, so you'll enjoy spending less time racing against the clock as you wash and dry your vehicle.  Taking care of your car's paint gets easier every time you use it!
Safe for paint, plastics, and vinyl. Safe for automotive, aerospace, motorcycle, and recreational vehicle paint and gel coat.
Each bottle is precisely poured with care and twice-checked by weight, down to the gram, to guarantee that you don't miss out on a drop of our finest sealant. The Klaren team believes that having the cleanest car on the block has never been easier. We're committed to delivering quality products at the fairest price we can offer, so we guarantee our products to you for 30 days, or you get your money back.